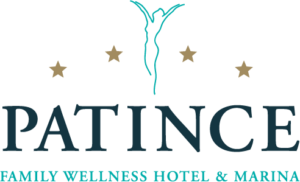 Wellness Hotel Patince ****
Modern family Wellness Hotel Patince is ideal for families with children, seniors, couples and corporate business clients. Slovakia is rich in thermal springs and one of them we are proud of in our hotel. Beneficial water from the Héviz spring fills our indoor and outdoor pools in the Thermal Park. Perfect relaxation is provided by our Wellness Centre with a wide range of massages and spa treatments such as baths, wraps and beauty treatments. A wide range of accommodation in various room categories, excellent gastronomy, conference facilities adapted to different types of events and many leisure activities will provide you with a perfect year-round holiday. Experience the advantages of our hotel, the many children's attractions, play areas, playgrounds and themed animation programmes. Enjoy comfortable accommodation and exceptional wellness services.
Our story
Family Wellness Hotel & Marina
WELCOME TO THE WELLNESS HOTELI PATINCE ****
Wellness Hotel Patince offers accommodation in 98 rooms of different categories. Standard, Economy, Family, Superior and various types of suites for 2 to 6 people. The hotel has a Thermal Park with 4 indoor thermal pools and 10 summer pools, a Wellness Centre with five saunas, a whirlpool and a relaxation room, relaxing massages, Thai massages and beauty treatments.
See more
THERMAL WATER
The use of thermal springs in Patince has a long tradition. The thermal water in Patince is characterised by its high content of bicarbonates, calcium, magnesium and sulphates, which makes it very beneficial for the musculoskeletal system and an excellent remedy against its diseases. Special relaxing bath in the hotel area - sitting around the spring, located directly in the thermal lake. In the Roman bath you can sit comfortably and let the thermal water act on your joints and muscles, on which it has beneficial effects.
See more
Special hotel offers and special promotions
HOLIDAY PACKAGES AND EVENTS
Offer of accommodation
ROOMS AND APARTMENTS
Hotel stays, vouchers to the wellness center and Thermal Park
GIFT VOUCHERS